BEAUTY'S MOST UNSTOPPABLE FORCE GOES DIGITAL
There is simply no one like Pat McGrath in ultra end end premium beauty.  Her inventiveness, creativity, commitment to craft, and level of artistry is unmatched.
Master of the exclusive drop and fashion with a capital "AF," she possesses a truly unique warmth that captures a devoted community of fans that hang on every launch.
She has built a luxury brand built deliberately, and without compromise.
Translating this brand into digital takes more than simple web technology, it requires uncompromising strategic partnership from operations to organization, creativity and design.
The Challenge
Great Brand retail is knowing your customer and building unbreakable trust with them that makes them repeat customers for life and advocates for your brand and products. Pat and her team needed digital support in may different facets of her growing business. At the core of this great brand is an artist, her vision, her products and her adoring fans. From top to bottom, packaging, imagery, to the technology selections every single aspect of this business needed to support this Brand Experience.
The Solution
The Science Project participated in a wide variety of tasks over the length of our partnership including:
Selfridges Launch – Best performing beauty launch of all time
Complete Web Design Redesign – Concept, UX, and visual design of a new e-commerce platform from Top to Bottom.
Building a Marketing Strategy, Team and selecting and managing vendor.
Data, Insights and Iterative direct marketing to specific segments
We worked with the standout team at Verbal + Visual to build the property.
Enterprise Technology Consulting
Go to Market Launch for Face Category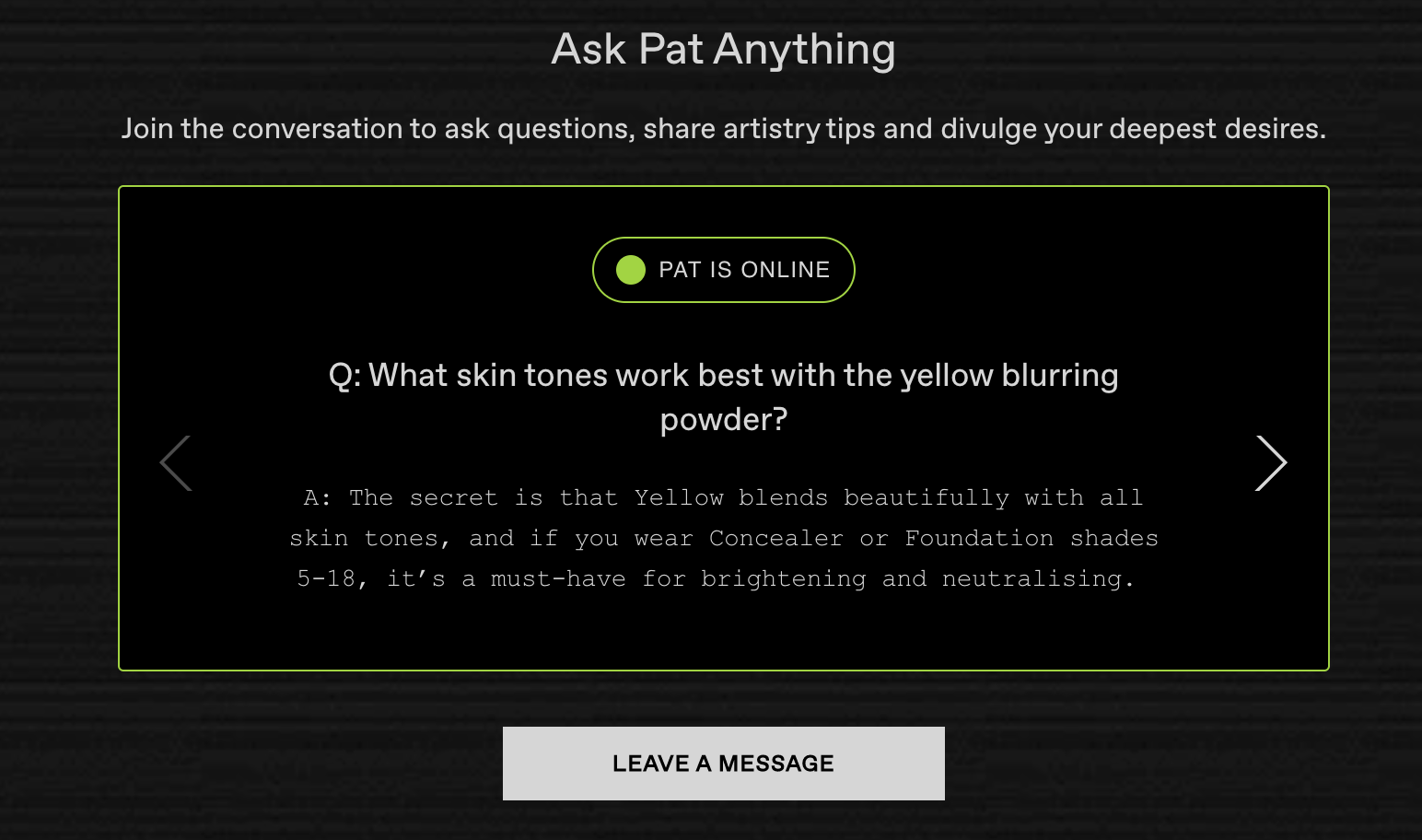 3 Reasons Why Even a Luxury Brand Can be Digital
In a vast ocean of throwaway brands and rushed retail there are true masters of their crafts. Their digital presence must reflect this. Imagery, Motion, Copy, Conversation, Interaction are all mediums that can be leveraged to create a luxury feel.
Even for the most visually aesthetic brands how they look is only one element for their customer. How they 'feel' to each every shopper is what creates the bond. Each and every facet is important.
A powerful brand of any kind requires a powerful technical enterprise beyond simply a website to support growth, services, amenities and a full customer engagament.